Last week I read about The People Walker, a guy from San Fransisco that is getting paid to walk people. It's is one of those poster-boy stories for Inc Magazine; someone making money with nothing but a weird idea.
When I read something like this, I get envious. Having put in a lot of work and time to pursue ideas that just never got the attention I thought they deserved, there's a feeling of entitlement that kicks in. It's the mind's way of shedding responsibility. What makes this guy so lucky? I'd never get paid to do something as dumb as walking around.
This time, though, I decided to try out a stupid idea of my own. I sat down and started writing. Ten minutes later I had this Craigslist post: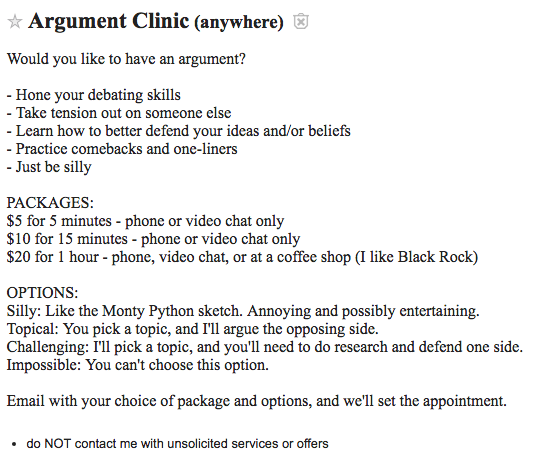 I hit publish and promptly forgot about it. I didn't even remember I had put it up until this showed up in my inbox.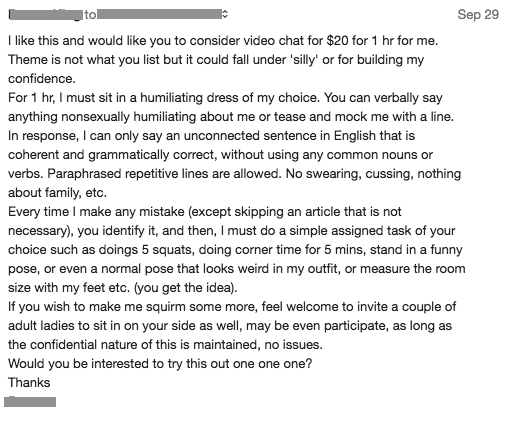 I started off excited – I was going to get paid! – but my interest quickly waned. This sounded more like some sort of weird fetish than an argument. Even if it was just a confidence-building exercise, it sounded oddly over-structured and, honestly, just a bit too weird for me.
I politely declined, and reposted the ad. Let's see what another week brings.