Home service pros love to ask questions about flat rate pricing, but they rarely give out detailed answers. What are home service companies actually using, and how is it working for them?
I set up a 10-question survey using Google Forms and shared it with the Housecall Pro Facebook group. In total, 35 business owners took the survey. I followed up with a few of them to clarify their answers.
This post covers what I learned from the survey, including:
The most popular flat rate solution.
How flat rate affected revenue.
The best and worst parts of flat rate pricing.
Let's dive right in.
---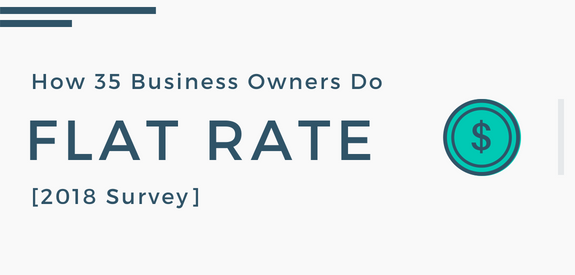 The Questions and Answers
Do you use flat rate pricing?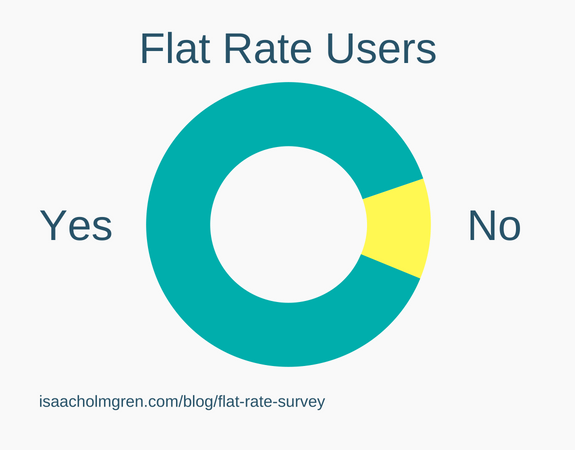 This question was supposed to be sort of a gimme; I expected everyone taking the poll to be using flat rate pricing. As it turns out, 4 people answered no. Good thing I asked.
What industry are you in?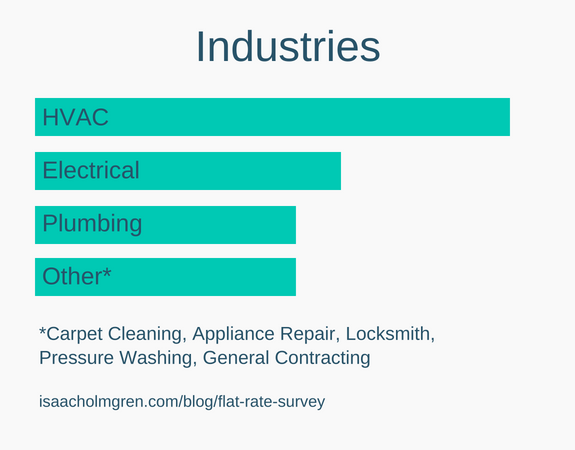 The big three are well-represented: HVAC, Electrical and Plumbing.
What flat rate system do you currently use?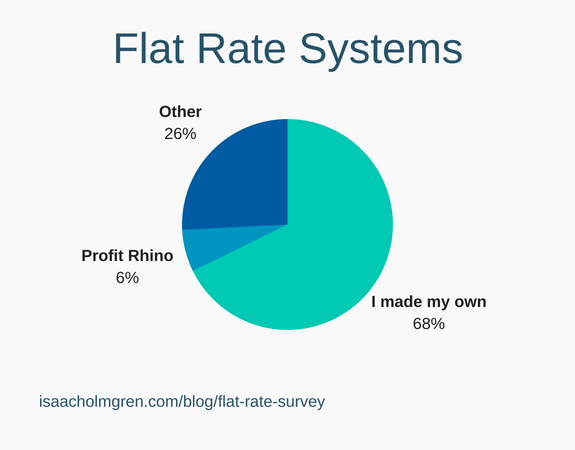 This one threw me for a loop. My intention with this study was to understand what third-party pricing software or tools were most popular.
Turns out 68% of respondents were using their own system.
I heard people asking questions about flat rate software, so I assumed quite a few people must be using flat rate software.
My mistake!
Which flat rate systems have you used in the past?
Similar to the other question about systems, 76.5% of the respondents had built their own flat rate system in the past.
What do you use flat rate for?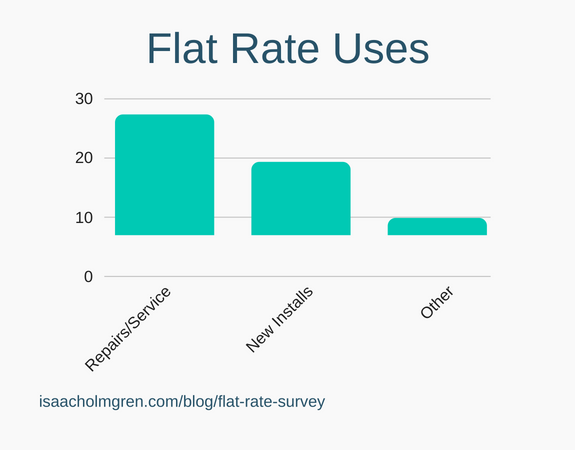 Most people surveyed said they use flat rate for repairs and/or service.
Half said they use it for new installs, either along with or without the repairs or service.
There were a number of other responses from cleaners, who fall in a separate category which I forgot to provide as an option.
How much did your average ticket go up when you switched to flat rate?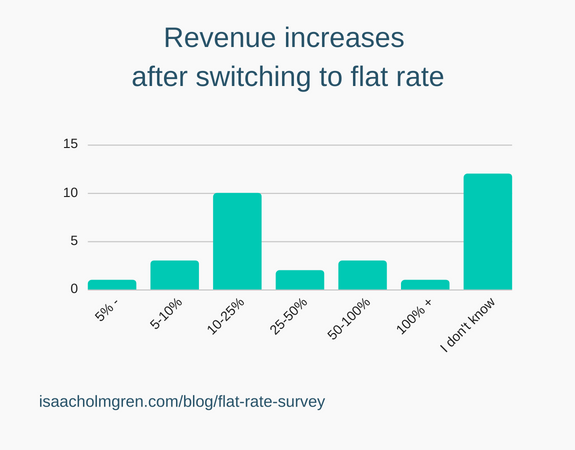 12 answered that they don't know how pricing was affected by the switch to flat rate. One third of respondents said that flat rate had added 10-25% revenue.
How happy are you with your current flat rate system?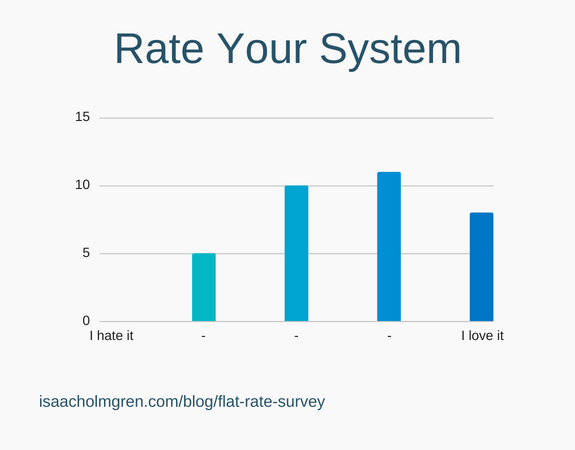 While nobody said they hate their flat rate system, there's definitely room for improvement. Five rated their system a 2 out of 5, and only 8 reported they were completely satisfied with their current system.
What are your favorite parts of your current flat rate system?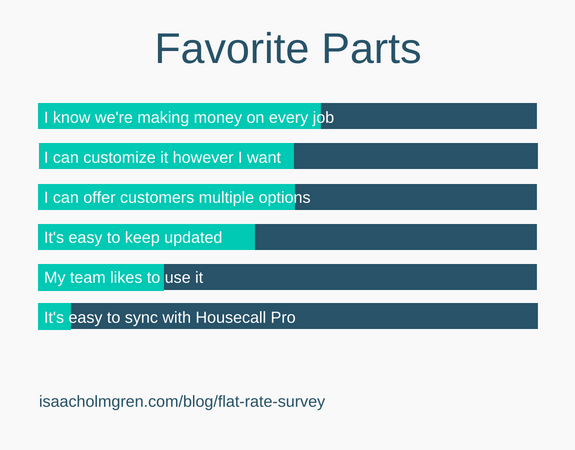 The biggest benefit reported was knowing we're making money on every job. Over half of those surveyed are confident in their flat rate pricing system and its' ability to maintain profitability.
Other favorites were customization, being able to offer multiple options, and ease of updates.
Not as many were confident in their team's support of flat rate. Not all employees understand the costs of running a business, and flat rate pricing can widen the gap between their hourly rate and the price they see charged to the customer. This is a common challenge for business owners.
Not surprisingly, very few reported it being easy to sync with Housecall Pro. This was a particular point of discussion at the time I started the survey, and I suspected it was a point of frustration for many.
What are the worst parts of your current flat rate system?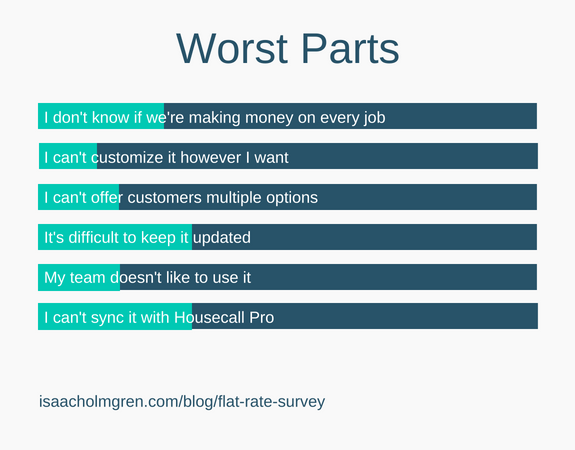 The top complaint was keeping the system updated.
This can be a huge task, especially for complex service companies in HVAC, electrical or plumbing.
And if you're using the Good-Better-Best pricing model, you've just tripled the amount of work.
Just as frustrating was the challenge of syncing flat rate pricing with Housecall Pro.
Once you've worked through all of the possible options and made your updates in your pricing software or your printed books (or both!), there's still your HCP price sheet to bring up to date.
Coming in a close second was that some didn't know if they're making money on every job.
It's one of the biggest hurdles to companies making the switch.
Charging hourly is easy; you know you'll cover your costs, no matter how sideways the job can go.
But when it comes time to use flat rate pricing, the dynamic is different. How do you figure out what to charge in order to turn a profit? And what happens when a job takes longer than usual?
We'll talk about that after we cover the results of the last question.
Any other thoughts about flat rate pricing?
I asked this open-ended question to leave room for things I hadn't considered in my own questioning. There wasn't a huge revelation here, but a few thoughts from business owners:
"I need a more developed concept of competitive flat rate pricing"
"Flat rate is the fastest way to increase your average ticket size"
"Customers appreciate the up-front pricing. T&M creates skepticism in my opinion"
"It's the only way to go"
"Do it"
"Just do it!"
---